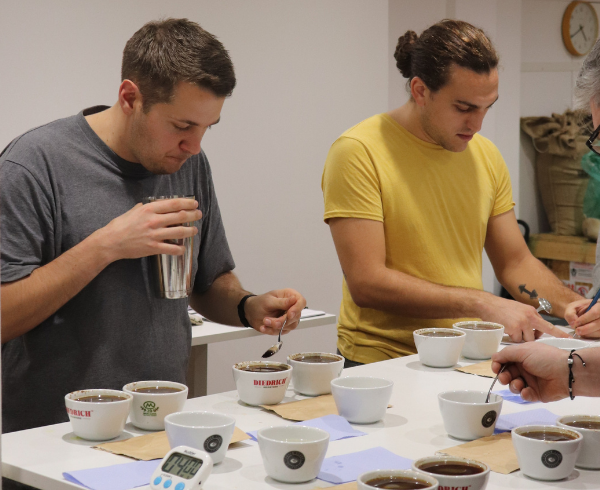 The SCA intermediate course looks at sensory analysis and cupping on a deeper level.  

Location: Combination course consisting of Online, live using Microsoft Teams, and one day at our Fulham Training Campus

Length:
 

Three days in length, two of which are half days.
Max capacity:
 

6 people
What you need:
 

Check

 

here
Our Intermediate courses includes the SCA Certification fee.  However, you are required to pay a additional Euro50 (£40) SCA Student enrolment fee direct to the SCA. (details of how to register and pay will be provided by the SCA when you book)
What to expect:

This course is best for those already working in the area with a firm knowledge of the basic skills and covers the Principles of Coffee Cupping & Sensory SKills.
The course is broken down into the following three areas: 
How we taste, perceive and interpret
Managing cupping sessions and exploring diversity in speciality coffee
How to set up sensory in your business & sensory application
Course Breakdown:
Examination:
The course provides you with the key information to enable you to sit your Intermediate Level Sensory Skills qualification which consists of 4 short practical exams and a written exam (25 questions with a pass rate of 70% required). 
 After:
Successful completion of the Intermediate course will result in 10 points gained towards the SCA diploma.


Still not sure? Well here is why we think you should choose London School of Coffee Online?
- Experience the same high-quality training, as delivered at our venue in London, with the same trainers, from the comfort of your home
- All training will always be live, not pre-recorded

Notes:
Pricing includes VAT, the sca enrolment fee is paid directly by the student/attendee. (Euro50).

For Q&A's regarding pricing, equipment and access to resources, click here.
*Terms Apply