LSC Basic Barista Training - ideal if your looking to become a Barista, or have a cafe.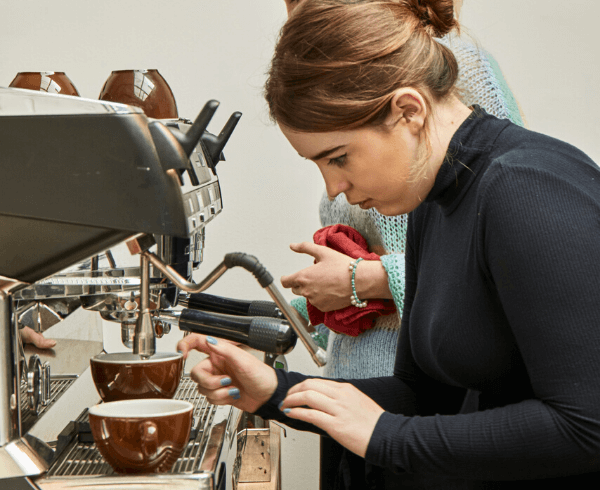 LSC Basic Barista Training - ideal if your looking to become a Barista, or have a cafe.
This is the one day LSC Basic Barista course - ideal if you are a beginner and are looking to become a Barista, looking to open your own cafe or looking to train new staff. 
There is another 2 day option which is the 2 day complete Barista Bundle which includes this courses and our LSC Intermediate Barista.  Ideally you would take both courses but you are welcome to take either on their own.
The LSC Basic Barista will introduce students to the foundation of the work of the barista; helping you to understand coffee, milk and the machines involved.  there will also be a presentation in the morning on the specialty coffee industry.
What to expect:
It is aimed at students who have not approached an espresso machine before, as well as beginning baristas, home enthusiasts and those looking for a refresher course.
This one day workshop will give you the basic techniques in setting your machine and grinder and creating the optimum espresso and basic coffee menu time after time.

The basic barista training course includes:
Coffee harvesting, processing and roasting

The role of the barista

Grinder and espresso machine operation, cleaning and maintenance

Factors affecting coffee

The perfect espresso and its daily quality control

Milk texturing techniques

Drinks preparation and presentation
On the day:
1-day course from 10 am to 4.00 pm.
Morning Session:  Theory and knowledge development
Afternoon Session: Practical skills
if you wanted to attend the 2 day Barista Bundle then the next day would be the LSC Intermediate Barista - this will put into play everything you have learnt on day one and we will conduct the day as if you are working in a cafe environment - making the drinks, speed of service, consistency, wastage, and introduction to basic heart latte art.
The Basic or Intermediate courses can be attended individually at a cost of £210 each or you can attend the Comprehensive 2 day Barista Package for £375 which will include both Basic and Intermediate level days.
Pricing includes VAT.