SCA Sensory Foundation (beginners course with or without exams)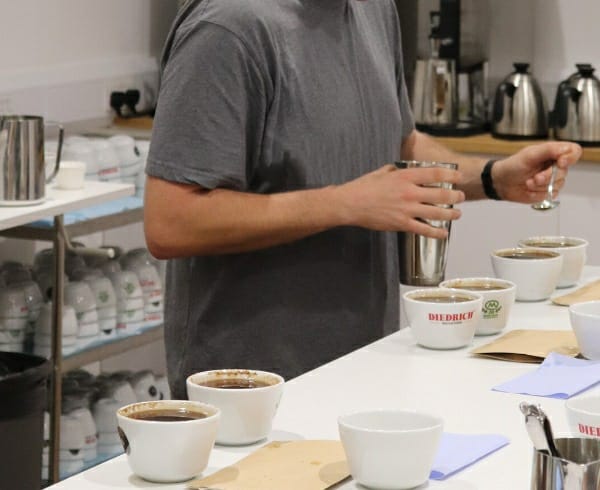 SCA Sensory Foundation (beginners course with or without exams)
Sensory Foundation Course. Great for beginners and anyone wanting to learn sensory skills.  You are welcome to attend without taking the SCA exam, just come along and have a great learning experience.
Here on the sensory foundation course we aim to provide you with both theory and practical skills.  So in the morning we start with a some theory on how we actually taste which leads us nicely into some fun practical activities! 
You will learn the five basic tastes and how to distinguish each one, followed by fragrance identification using the le nez cafe kit! 
Then in the afternoon session we put into practice what we have learnt and start to analyse coffee samples by following a cupping protocol we can then distinguish aroma & flavour differences in our coffee samples.
By the end you should feel confident in your coffee tasting skills and put it into practice at home and when selecting coffees. 
This course is available both in-house at our training facility in Wandsworth or online.  The in-house is a one day course from 10am to 5/5:30pm and the On-Line is over two 4 hour sessions. If attending the on-line course LSC like to include in this training a sensory kit which you can use alongside your training.  We need to stress that this kit is not a requirement to attend the course.  If you are wishing to attend from Europe or around the world you can still do so but you wont receive a training kit as deliveries have been to unpredictable. If in the UK you will be sent the kit which contains some roasted ground coffee, solutions and aromas. (the kit is just an additional resource)
Location: In house training at our training rooms in Wandsworth SW18 4LY
Online, live using Microsoft Teams.  Length: Two x half days in length.
Max capacity: 6 people
Our Foundation course includes the SCA Certification fee.  However, you are required to pay a additional E50 SCA Student enrolment fee direct to the SCA. (details of how to register and pay this will be provided)

What you'll learn:
-Fundamental sensory physiology
-Basic tastes and aroma recognition
-Concepts of Mouthfeel
-How to apply key sensory concepts to the evaluation of the coffee's intrinsic characteristics
-How to use professional terminology to differentiate between coffees
After:

This course also has a written exam which should be completed within 21 days of the course completion. (Full information on how to do this will be provided).

If successful, you will gain 5 points towards your diploma.

After the course you will have unlimited access to the LSC Online Community* terms apply to enable you to continue to grow your knowledge in a fun, supportive online environment. You will also be provided with a training kit to use during your online training.



Still not sure? Well here is why we think you should choose London School of Coffee Online?
- Experience the same high-quality training, as delivered at our venue in London, with the same trainers, from the comfort of your home

- All training will always be live, not pre-recorded

- If in the UK a Training kit will be provided, for you to enhance your learning experience. (this is not required to take the course)

- Free unlimited access to our online community, where you will find further reading, group chats and resources



Notes:
Pricing includes VAT, cost of domestic shipping to UK.
Please be aware that for non-UK students, will not receive the training kit - this is an addition that we provide but is not required to attend the course.
For Q&A's regarding pricing, equipment and access to resources, click here.

*Terms Apply