How to Start a Roastery - Aimed at all those looking to start their coffee roasting journey.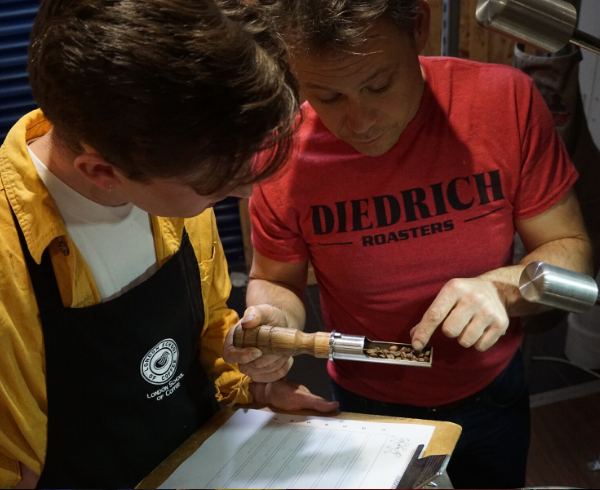 How to Start a Roastery - Aimed at all those looking to start their coffee roasting journey.
This is a great course for anyone considering opening their own coffee roasting business or starting their coffee roasting journey. 
A deep dive into all aspects of  Coffee Roasting and the Business of Coffee Roasting. 
This is a non exam course - but a great preparation for anyone looking to do their SCA Intermediate level course.
Location: Onsite at our Wandsworth Training Campus

Length: Three full days in length. 
Max capacity: 6 people
What you need: Check here
Times:  9:30 to 5:30 each day.   We do not provide lunch on these courses but you are welcome to bring food with you or visit local shops or cafes.
This course will be taught by Jamie Banwell. 
Jamie has been an SCA qualified roasting trainer for 5 years and a Diedrich Master Trainer for 10 years. Jamie is a Q Grader, formerly a UKBC and WBC Judge and currently a judge for regional roasting competitions: he also has a BEng in Engineering in Civil Engineering from the UMIST.
Initially, Jamie was a distributor for Diedrich in the UK, but since July 2018, Jamie is Director of European Sales for Diedrich Roasters, responsible for training and many other areas.
Assistant Trainer:  Heidi Philip-Smith
Heidi has been working with the London School of Coffee for 5 years assisting on all disciplines.  She is an SCA Barista Judge and Latte Art Champion. Heidi recently placed 4th in the UK cup tasters championships.  She will be guiding the group with setting up cupping tables and how to approach sensory skills.
What you'll learn:
This comprehensive 3-day course covers roasting profiles and all aspects of setting up your roastery. Using commercial roasters, you will learn the skill of roasting, as well as;
- Roasting Fundamentals and planning
- Roaster install and safety
- How to profile your roasts including use of profiling software
- Controlling the roaster and hitting targets.
- Green Coffee Analysis
- The importance of cupping and how to set up a cupping table.
- The importance of Green Quality and how to use your Green Supplier
- What equipment do you need to set up a Roastery
- Business models - what should your margins be and how do you price your 
   products
- Examination of different business models and introduce you to our own on site Toll and Slot Roasting service which will enable you to scale your business more cost effectively.
You will have at least 6 x 2 hour roasting sessions during this 3 day course,
We also provide a talk on how to buy your green coffee from a green coffee merchant and discuss management techniques. 
Information:
We do offer the SCA Intermediate Roasting courses, typically every quarter - please enquire for availability via our email info@londonschoolofcoffee.com
Should you be looking to take your SCA Intermediate level course, after attending this course you will have gained a good base in which to take the intermediate level
For those signing up to the full roast week, discounts are available.

For more information regarding SCA Roasting Foundation Click here
For more information regarding SCA Roasting Intermediate exam Click here


Itinerary:
For more details regarding the course agenda, Please enquire at info@londonschoolofcoffee.com.
*Terms Apply:  We will do our very best not to cancel courses, on the very rare occasions where for some reason out of our control we are unable to provide the course we will offer you a alternate date or a full refund of the course.