SCA Roasting Professional/Advanced Roasting Training - Morten Munchow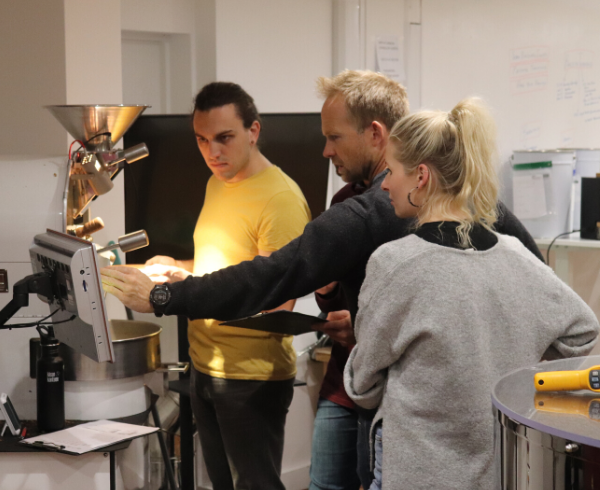 SCA Roasting Professional/Advanced Roasting Training - Morten Munchow
The SCA Roasting Professional course gives you everything you need to become a master roaster. Here you will learn the
 skills you need as a manager to plan and execute quality control.
You can attend just the advanced roasting training over four days without the exam if you prefer. contact gayle@londonschoolofcoffee.com for costs without the exam.
Course Objectives:
Ability to control and match the colour within different and specified time limits
Identity by visual assessment of different roast colours
Identify by sensory analysis of different roasting profiles of the same colour with varying development time and rate of change by using the official roasting evaluation form.
Create, discuss and analyse profiles using terminology from the keyword list
Configuration and use of roast profile software
Perform calculation on the rate of change on a known roast curve
Understand and analyse roasting operation using workflow optimization methods including LEAN production and PIC concepts
Describe the tow main browning reactions in terms of sequence and flavour development and which basic molecules are involved in the different browning reactions
Explain the principles of heat transfer, how the heat enters and distributes inside the bean and how they are generally applied to the roasting process
Describe how/which types of heat transfer are adjustable during the roasting process including different roasting technologies
Visual identification of roasting defects on bean and/or pictures. Scorching, Tipping and facing
Shelf life: Degassing and valves.  Barrier material.  Flushing. Grinding
Blending: Pre/post considerations, bean selection, number of components, product purpose (espresso, filter, milk, sugar)
CUPPING:
Green coffee selection
Roast profile evaluation. The roast profile evaluation form
Quality control methods (In/out, triangulation)
Downstream quality control
CHEMICAL and Physical transformations:
Describe Green coffee chemistry and the relevant transformations during roasting
Describe the chemical differences of processing methods during roasting and how they impact on colour and flavour.
Gas formation
Acid degradation and formation
Physical reasons for solubility
Chemical reason for solubility
Chemical causes of roast colour and its importance.
SCA Roasting Professional course – 24 hours training required over 4 days
SCA Prerequisite for Roasting Professional is as follows: - If you don't have the following but regularly cup so have good sensory skills please still enquire.
SCA Roasting Intermediate level
SCA Sensory Intermediate level
SCA Green Intermediate Level
Our Professional courses includes the SCA Certification fee.  However, you are required to pay a additional Euro50. SCA Student enrolment fee direct to the SCA. (details of how to register and pay will be provided by the SCA when you book). 
Pricing includes VAT.