SCA Roasting Intermediate 2 day course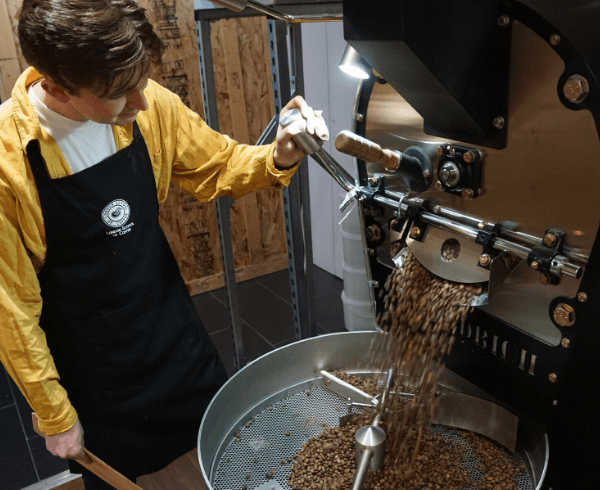 SCA Roasting Intermediate 2 day course
The two day SCA Intermediate Roasting course is suited to roasters who are fairly confident with their skills and are looking to mainly gain the SCA certification  - There is theory on day one and day two will be practice and then practical exams to verify skills.
If you are looking for a more indepth course please refer to our "how to start a roastery" 3 day course - This is option is aimed at newish roasters who may want a less pressurised course with additional practice and more time on the roasters to enable them to perfect their skills.
Feel free to contact us for further advice or assistance on what may be best suited for you.  Please also be aware that you are most welcome to attend these courses without taking the exams - and we will refund you the exam fees.
Our Intermediate courses includes the SCA Certification fee.  However, you are required to pay a additional Euro50 SCA Student enrolment fee direct to the SCA. (details of how to register and pay will be provided by the SCA when you book)

 What to expect:
This course will be taught by Jamie Banwell. 
Jamie has been an SCA qualified roasting trainer for 10 years and a Diedrich Master Trainer for 12 years. Jamie is a Q Grader, formerly a UKBC and WBC Judge and currently a judge for regional roasting competitions: he also has a BEng in Engineering in Civil Engineering from the UMIST.
Initially, Jamie was a distributor for Diedrich in the UK, but since July 2018, Jamie is Director of European Sales for Diedrich Roasters, responsible for training and many other areas.
What you'll learn:
This course will provide you with a more in depth understanding of the roasting process and how different methods of heat transfer affect the roasting process in various ways. You will also see how alternative roast profiles lead to varied sensory expressions for the same coffee, even at the same roast degree. You will also learn about roast defects and how to avoid them and you will be introduced to the basic physical changes that the beans undergo during the roasting process. Finally, there is a small appendix about workspace management and lean production. It is recommended that you have some experience of working in this field before attempting this level or have successfully passed Roasting Foundation.
In addition where possible there will be a lecture on green buying and sourcing with an opportunity to cup a selection of unique coffees from a Specialty Coffee Merchant with a brief introduction and explanation of the SCA scoring sheet.
This course is suitable for roasters who have passed the foundation level and have some roasting knowledge/experience.  This course would be challenging for anyone new to roasting.
2 Day Course from 9.30 - 5/6 pm
Successful completion of the Intermediate course will result in 10 points gained towards the SCA diploma.
Pricing includes VAT, the SCA examinations and certification - additional SCA enrollment fee to be paid by attendee Euro50 - charge directly by the SCA.